OPP Trackdays Instructors & Control Riders have been chosen not just because they are amazing motorcycle riders, but also because of their coaching capabilities, friendly & approachable demeanour, lack of ego and their firm belief that all motorcycle riders can never stop learning. OPP Trackdays Staff are a great mix of top motorcycle racers, experienced trackday riders and people in the motorcycle industry.
Patrik Paletar
Patrik is the owner/operator of OPP Racing and is the founder of OPP Trackdays. He has been in the motorcycle parts distribution business since 1999. He has been riding motorcycles since 1985 and started racing in 1999. Patrik has raced in AMA and Formula USA in the late 1990s and early 2000s with best finishes in the top 10 and qualifying on the front row. His passion for racing led him to open up a motorcycle hard parts specialty distribution business known as OPP Racing. He stopped racing in 2003 to focus on his business and has been trackday riding occasionally when time allowed. Patrik is very much a motorcycle enthusiast, especially when it comes to aftermarket parts.
OPP Racing has a solid footprint within the motorcycle industry with locations in Port Coquitlam, BC and San Francisco, CA that ships parts worldwide. OPP Racing distributes premium brands such as Lightech, FullSix Carbon Parts, Brembo Brakes, Samco Water Hoses, BST Wheels and more. Patrik's passion for motorsports runs deep not only for motorcycles but cars, boats and anything motorized. He is an avid motorcycle collector with many of his motorcycles being extensively modified and as a custom superbike builder he builds and provides parts for hundreds of motorcycles around the world. Patrik believes that with great enthusiasm, passion and a bit of luck his business has evolved to start the OPP Trackdays comany at the world class Area 27.
Steve Dick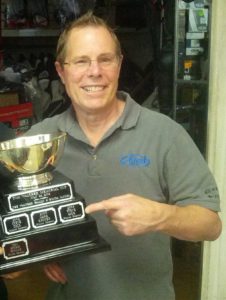 Steve started riding motorcycles in 1969 and started trackday riding and racing in 1976 at the Westwood Racing Circuit. Steve started instructing in 1978 with the Alberta Roadracing Club and has been instructing at WMRC schools since 1983. Steve has has raced extensively in the Canadian Superbike series and has won several WMRC class championships and is the 2002 and 2004 WMRC Champion. He also raced in the US and in South Africa at various regional & national events.