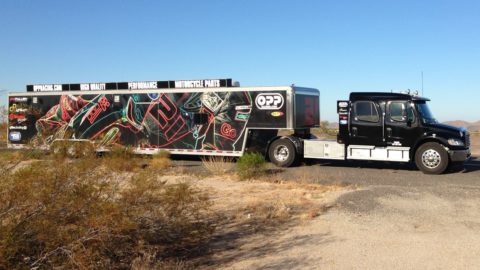 OPP Trackdays is offering the option of round trip motorcycle transport service from OPP Racing headquarters in Port Coquitlam to Area 27.
The cost for round trip motorcycle transport services is $250 CAD and spots are on a first come first served basis. You will need PitBull Trailer Restraint Pins.
Reservations must be booked and paid in full in advance. Motorcycles must be delivered to OPP Racing no later than one day prior to departure. Motorcycles must be clean and free of any leaks of any kind. Your bike will be delivered to Area 27 and can be picked up at the Semi Truck location.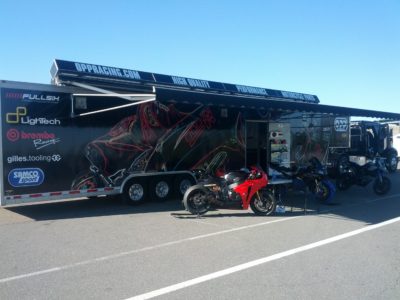 "Little Pepe" affectionately nicknamed after the truck in the movie Romancing The Stone. The rig is a 2012 Freightliner Business Class that is powered by a Cummins diesel and Allison transmission that seats 5 on individually operated air ride seats. It also features a large separate tank for gasoline for motorcycles. The trailer is a 50 foot aluminum professional racing trailer that can comfortably accommodate 12 motorcycles. It features a workshop area in the front with numerous storage compartments, a large air compressor and a 4 cylinder diesel generator that powers the large awning, power outlets, lights, air conditioning and a stereo system.
Motorcycles will be loaded using Pit Bull trailer restraints. Please let us know in advance if you have or need Pitbull Pins, Available for purchase at www.oppracing.com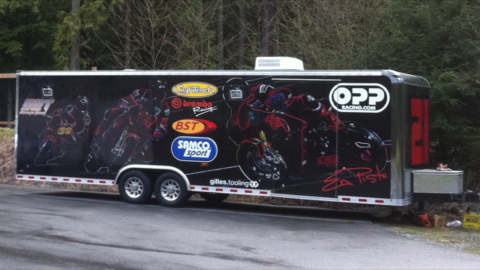 OPP Racing's 30 foot trailer nicknamed "The Little One" can accommodate up to 12 motorcycles and features air conditioning, 7000kw Honda generator, aluminum wheels, several storage cabinets, work bench, and full lighting.
Motorcycles will be loaded, when possible, using Pit Bull trailer restraint system as well as tie downs.