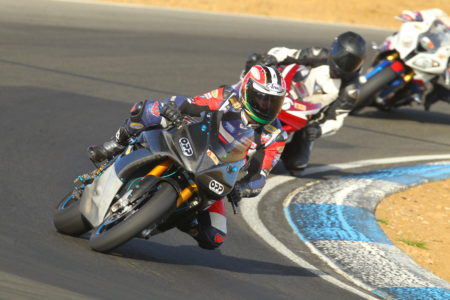 OPP Trackdays is proud to provide current and future oppracing.com customers the opportunity to experience the world class Area 27 racetrack in Oliver, BC. OPP Trackdays is committed to offering fun, controlled, safe and professional trackdays for motorcycle riders to improve their skills. The racetrack is the best place for motorcycle riders to learn how to become safer, better, smarter and more capable riders.
Safety is the primary concern and there are strict passing rules for each group that will be monitored by OPP Trackday Staff. New or less experienced trackday riders will be led in small groups by OPP Control Riders for the first few sessions so that they learn the track and get comfortable. OPP Control Riders will be on track in all groups to monitor riding and will be available to give guidance where needed.
OPP Trackdays runs 3 groups that alternate 20 minute sessions to suit riders of all skill levels:
Relaxed Group: For first time trackday riders, newer trackday riders or less experienced trackday riders.
Intermediate Group: Advanced street riders and riders with some trackday experience.
Advanced Group: Highly advanced street riders, riders with extensive trackday experience and licensed racers.
Typical OPP Trackdays schedule:
7:00am – Registration & Technical Inspection opens
8:15am – Rider's Meeting (mandatory for all riders)
9:00am – 12:00pm – Rotating 20 minute sessions (Relaxed Group, Intermediate Group, Expert Group)
12:00pm – 1:00pm – Lunch break
1:00pm – 5:00pm – Rotating 20 minute sessions (Relaxed Group, Intermediate Group, Expert Group)
5:00pm – Track closed
OPP Trackdays participants must have:
Signed the waiver upon entering the track facility as well as signed the waiver at registration.
Riding Gear:
Full face motorcycle helmet rated Snell M2010 / ECE-22-05 or newer.
Motorcycle leather riding suit. One or two piece that zips together around entire waist. Suit must have hard armor in shoulders, elbows, forearms, knees and shins.
Hard shell back protector (separate from riding suit).
Racing style full gauntlet style leather motorcycle gloves.
Racing style leather motorcycle boots that fully cover ankles.
All riding gear must be free of damage that may jeopardize rider safety such as being torn in vulnerable areas, malfunctioning zippers or helmets with severe scrapes or scratches. *Technical Inspectors have final say.
Motorcycle:
A clean motorcycle in good working order.
No leaks of any kind.
No loose nuts, bolts and fasteners. All nuts, bolts and fasteners should be tightened to proper torque specifications.
No sharp edges such as pointed bar ends, footpegs, levers, windscreen bolts, etc. Brake and clutch levers must be complete with ball end.
License plate removed.
Taped up headlights, brake lights, turn signals, mirrors and speedometer. Masking tape or gaff tape is recommended.
Adequate tire tread life with proper tire pressures for track riding. (Check with tire vendor if needed).
Firm brake lever and brake pedal. Adequate brake pad thickness. Bleeding brakes and cleaning calipers prior to attending a trackday is highly recommended.
Proper chain slack (a little loose is better than a little tight). Clip style master links should be safety wired & siliconed. Rivet style master links should have a dab of paint on them to be more visible to Technical Inspectors.
Throttle snaps shut upon release at all handlebar positions. All aftermarket throttle devices must be removed.
Smooth operating clutch. No frayed clutch cables.
Suspension operates smoothly and has no oil leaks. Having sag set, compression and rebound damping adjusted is highly recommended.
Steering head bearings properly adjusted.
What our clients receive in your OPP Trackday appreciation event:
We strive for seven 15-20 minute sessions (3 in the morning and 4 after lunch) are planned for each participant in each group barring any delays or incidents.
This is a fully catered event. All food and drinks are included. Includes breakfast consisting of , fruit, bagels, croissants, muffins, juice and water. Lunch is served consisting of either gourmet hamburgers, sandwiches ,pizza, wraps, vegetables, fruits. Beverages include water, juice, sports drinks and soft drinks.
Brand Ambassador Hostesses will be keeping participants supplied with water and sports drinks throughout the day.
Sound level max of 97db STRICTLY enforced by Area 27. Bring db killers/silencers in case you exceed the noise limit. 
3-Day Limit for non-Area 27 members. If you are not a member at Area 27 you may only attend 3 days per calendar year. No Exception

What is included in your OPP Trackday plus VIP Coaching – Feel like a PRO
Mini Classroom session with Professional Motorcycle Racers and Instructors.
On track lead and follow laps focusing on techniques and skills learned in classroom sessions.
Personalized coaching to help students increase riding skills and confidence on track
Special section area for VIP Coaching clients lunch including an extended menu and Brand Ambassador Hostesses.
VIP snacks, water and refreshments served by Brand Ambassador Hostesses.
Highest priority waiting list, VIP Technical Inspection at your pit.
Staff assistance upon request.
VIP Coaching is for you if:
you are new to track riding
been riding on the street and you would like to elevate your skill level
want to improve your track riding skills
This is an excellent way to dramatically and most of all safely improve your riding skills.You will receive a safe introduction to track riding , pointing out proper breaking points , entrance and exit lines , safe entrance and exit on/off track, and proper track etiquette. Riders are guaranteed to learn and improve riding skills.