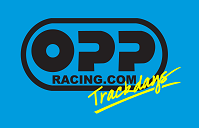 OPP Trackdays
OPPRACING.COM Trackday
Tuesday, August 20, 2019
Area 27 – Oliver, BC
Area 27 is a world class racetrack designed by a culmination three Canadian racers: former Formula One World Champion Jacques Villeneuve, track builder Trevor Seibert of Lake Excavating and Area 27 President/General Manager Bill Drossos. Area 27's name came from the mysterious Area 51 in Nevada and Jacques Villeneuve's #27 racing number and is located in Oliver, BC in the beautiful Okanagan.
The track is 4.83 kilometers in length, 12.2 meters in width and runs counter-clockwise. It is comprised of 16 corners (9 lefts and 7 rights) all of which make for a thrilling mix of fast sweepers, esses, 90 degree corners, increasing radius corners, decreasing radius corners, banked corners, elevation changes and long straightaways. The track is fast, technical, challenging and above all…fun!!!
What our clients receive in your OPP Trackday appreciation event:
We strive for seven 15-20 minute sessions (3 in the morning and 4 after lunch) are planned for each participant in each group barring any delays or incidents.

This is a fully catered event. All food and drinks are included. Includes breakfast consisting of , fruit, bagels, croissants, muffins, juice and water. Lunch is served consisting of either gourmet hamburgers, sandwiches ,pizza, wraps, vegetables, fruits. Beverages include water, juice, sports drinks and soft drinks.

Brand Ambassador Hostesses will be keeping participants supplied with water and sports drinks throughout the day.
What is included in your OPP Trackday plus VIP Coaching – Feel like a PRO
Mini Classroom session with Professional Motorcycle Racers and Instructors.

On track lead and follow laps focusing on techniques and skills learned in classroom sessions.

Personalized coaching to help students increase riding skills and confidence on track

Video review from on-board video cameras, footage available to take home on request. (TBD)

Special section area for VIP Coaching clients lunch including an extended menu and Brand Ambassador Hostesses.

Professional massage therapy in the paddock available on request. (TBD) extra cost.

VIP snacks, water and refreshments served by Brand Ambassador Hostesses.

Data log reports (coming soon).

Highest priority waiting list, VIP Technical Inspection at your pit.

Staff assistance upon request.
Please Note: All OPP Trackdays tickets include a $100 Track Fee paid to Area 27 .
Bookings